Joyce Waters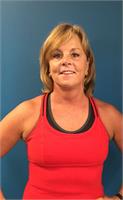 Joyce Waters instructs the following:
BODYPUMP™ is one of the world's fastest ways to get in shape as it challenges all of your major muscle groups while you squat, press, lift and curl. Improve your strength by performing 70-100 repetitions per body part totaling up to 800 repetitions in a single workout.




Yoga/Pilates is a method of exercise which emphasizes the balanced development of the body while building on core strength, flexibility, alignment, and balance, all while connecting the mind, body, breath, and spirit. Yoga/Pilates will enhance mobility, agility, stamina, increase core strength, stability, and toning, while lengthening the muscles and increasing range of motion. This exercise is no-impact and easy on muscles and joints. Compliments sports training and develops functional fitness for daily life activity.