Bone is living tissue, which is constantly being broken down and rebuilt. Until age 30, when we reach peak bone density, healthy bodies tend to regenerate bone at a rapid enough rate to build and maintain a healthy skeletal structure. However after age 30 it can become an uphill battle. So, if you have not yet reached the age of 30, now is the best time to build up optimal bone density! If you are past the magic number, don't despair! It is never too late to improve your health!
What is it?
Osteopenia is bone density found to be lower than peak bone density, but not low enough to be classified as Osteoporosis. Those with osteopenia have a much greater risk of developing osteoporosis. Osteoporosis is declared when significantly low bone mass and density is reached because the generation of new bone does not keep up with the breakdown of old bone.
Who is at risk?
Regardless of age, every individual rebuilds bone at a different rate, which unfortunately means anyone can be at risk for osteopenia. Osteopenia and osteoporosis are widely recognized as diseases which affect women. Women are far more likely than men to be at risk due to generally lower peak bone mass. In addition, older women are at higher risk because the loss of bone mass and density accelerates with menopause. However, Men between the ages of 65 and 70 lose bone mass at the same rate. Lifestyle factors such as decreased mobility and limited intake and bodily use of nutrition are major risk factors.
Following are other risk factors for both men and women of all age groups:
poor nutrition or a history of poor nutrition

eating disorders or a history of eating disorders or

inefficient calcium and vitamin D intake

anyone with metabolic problems
Any of these instances which do not promote proper intake and bodily use of vitamins and minerals may place individuals in an "at risk" category. Some treatments and medications can put people at risk as well, including:
chemotherapy

radiation treatments or exposure to radiation

steroid treatments (such as those used for control of asthma)
Other factors found to be linked to osteoporosis and osteopenia include
people of Caucasian or Asian decent

getting limited amounts of physical activity

drinking soda regularly

smoking

drinking excessive amounts of alcohol
Prevention
"So what can I do?" you ask. If you fall into any of the categories, many of them, or even if you don't fall into one single category at all, the measures of prevention are as follows:

Improve your nutrition - If you are unsure of what good nutrition entails, talk to our Wellness Professionals or contact our Registered Dietician, Alexis Joseph

Ensure proper Vitamin D intake (1,000-1,200mg/day)

Ensure proper Calcium intake (600 IU or 800 IU over the age of 70)

Ensure proper Magnesium intake (300-400mg/day) to aid in absorption of Calcium and for proper growth and maintenance of healthy bones

Stop smoking

Use moderation when drinking soda & alcohol

Increase physical activity: Exercise!
Exercise: weight-bearing and muscle-strengthening exercise are bone building
From the list above, the key to actually building optimal bone mass and density is weight-bearing and muscle-strengthening exercise. Proper nutrition and intake of vitamins and minerals provide the building blocks for strong bones, but it is the physical activity and exercise that actually result in increased bone strength. Weight bearing exercise makes you move against gravity to stay upright. While muscle strengthening exercises can do the same, such as in the case of functional movements (rising up onto your toes for a calf raise, for example) or lifting your body weight (rising from a chair or doing a body weight squat), they also include moving against another force such as a weight machine or resistance band. These types of exercise stress the muscles and bones in a healthy way which encourages growth and strength.
Following is a basic example of a weight-bearing and muscle-strengthening workout for optimal bone health:
Walk briskly for 25 minutes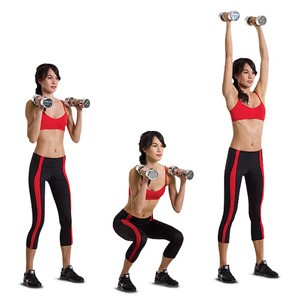 Circuit through: 12 squat-rows, 12 lunging chest presses, 12 squatting shoulder presses and 12 step ups. Repeat 3 times, 2-3 times per week.
Weight-bearing and muscle strengthening exercise are vital for bone strength and health. Regardless of age or risk factors the bone in your body is breaking down, take every precaution to build it up at a faster rate.
If you have questions, concerns or would like assistance, please contact our Wellness Professionals here at The Fitness Loft.